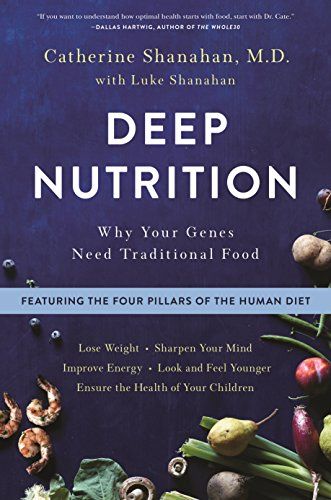 Ediciones:
eBook
(English)
ISBN:
1250113822
Páginas:
512
Deep Nutrition cuts through today's culture of conflicting food ideologies and teaches us how the habits of our ancestors have the potential to help us lead longer, healthier and more vital lives.
Año de edición:
2017
Autor:
Géneros:
Sinopsis:
Physician and biochemist Catherine Shanahan, M.D. examined diets around the world known to help people live longer, healthier lives—diets like the Mediterranean, Okinawa, and "Blue Zone"—and identified the four common nutritional habits, developed over millennia, that unfailingly produce strong, healthy, intelligent children, and active, vital elders, generation after generation. These four nutritional strategies—fresh food, fermented and sprouted foods, meat cooked on the bone, and organ meats—form the basis of what Dr. Cate calls "The Human Diet."
LEER MÁS
Rooted in her experience as an elite athlete who used traditional foods to cure her own debilitating injuries, and combining her research with the latest discoveries in the field of epigenetics, Dr. Cate shows how all calories are not created equal; food is information that directs our cellular growth. Our family history does not determine our destiny: what you eat and how you live can alter your DNA in ways that affect your health and the health of your future children.
Deep Nutrition offers a prescriptive plan for how anyone can begin eating The Human Diet to:
*Improve mood
*Eliminate cravings and the need to snack
*Boost fertility and have healthier children
*Sharpen cognition and memory
*Eliminate allergies and disease
*Build stronger bones and joints
*Get younger, smoother skin
COLAPSAR
Reviews:
Sports Illustrated

:
One of the Best Health and Wellness Books of 2017
--Dallas Hartwig, author of The Whole 30

:
If you want to understand the big picture of how optimal health starts with food, start with Dr. Cate. Her bookDeep Nutrition leaves you with a deep appreciation of the profound relationship between our genes and the planet, inspiring us to be good shepherds of both."
--Dave Asprey, author of the Bulletproof Diet

:
"I have based to my work on the idea that getting the right kinds of healthy fats into your body and avoiding the worst fats is essential to optimal health. I've interviewed dozens of the world's top experts about this, and I know of no one who speaks more eloquently on this topic than Dr Cate. If she's talking fats, pull up a chair. Take notes.
--Kobe Bryant, NBA player with the L.A. Lakers

:
"[Deep Nutrition is] a different philosophy, It's something that we all had to adjust to, but we trust Dr. Cate implicitly. I've seen great results from it from when I started doing it--it's worked well for me."
--Mark Sisson, author of The Primal Blueprint

:
Dr. Cate has emerged as one of the most important voices in the Primal/Paleo movement. She gives you the big picture and the nitty gritty bedrock science of why this way of eating works.
--Wellness Mama

:
"Deep Nutrition explains in a very detailed and easy-to-understand way how our diets affect us on a cellular level. Dr. Cate Shanahan provides the best explanation I've found for how many modern foods are not simply causing us to gain weight, but are literally creating disease within our cells. She shows the connection between diet and gene health, and details how poor diet choices can literally affect future generations!"
--Dwight Howard, NBA player with the Houston Rockets

:
"Deep Nutrition really helped me with endurance. I started to feel better as a player. I was able to run more, I was able to be more active because of my diet change, and I just decided to keep going with it to this day."
--Vani Hari, author of the New York Times bestseller, The Food Babe Way

:
Dr. Cate Shanahan beautifully presents the scientific evidence why traditional foods enjoyed by our ancestors thousands of years ago can keep us lean and disease-free today. Deep Nutrition is an eye-opening, engaging book that is sure to change your life and the life of your family.
-- Bookpage

:
With a wealth of detail, Shanahan shows how changing what you eat can improve everything from bone strength to memory.