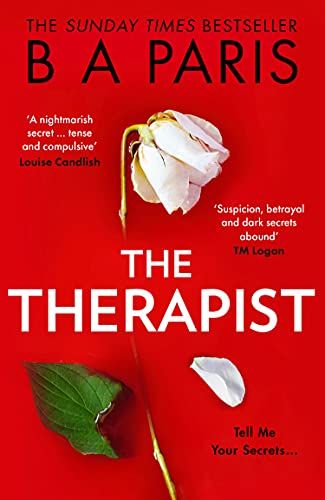 Ediciones:
eBook
(English)
ISBN:
B08CR3WNFT
Páginas:
368
From The Sunday Times best-selling creator of books like Behind Closed Doors comes the most exciting psychological thriller of 2021!
TELL ME YOUR SECRETS...
Año de edición:
2021
Autor:
Géneros:
Sinopsis:
When Alice and Leo move into a newly renovated house in The Circle, a gated community of exclusive houses, it is everything they've dreamed of. But appearances can be deceptive…
As Alice is getting to know her neighbours, she discovers a devastating, grisly secret about her new home, and begins to feel a strong connection with Nina, the therapist who lived there before.
Alice becomes obsessed with trying to piece together what happened two years before. But no one wants to talk about it. Her neighbours are keeping secrets and things are not as perfect as they seem…
The million-copy Sunday Times bestselling author B A Paris returns to her heartland of gripping psychological suspense in this powerful tale of a house that holds a shocking secret.
Praise for The Therapist:
LEER MÁS
'Alice's smart new home in The Circle comes with a nightmarish secret in B A Paris's tense and compulsive new thriller – I gobbled it up in two sittings' Louise Candlish
'Suspicion, betrayal and dark secrets abound in this tense story – all hidden just beneath the surface of a seemingly perfect suburban life' TM Logan
'A delicious web of lies. Be prepared for your head to spin and your fingers to fly!' Jane Corry
'B A Paris is the queen of psychological thrillers and her latest does not disappoint' My Weekly
'This spooky thriller with excellent twists and a really fast-paced shock finale' Heat
'Totally hooked. Completely gripping' Mel McGrath
'A propulsive and deliciously dark page-turner. Perfectly paced and tightly plotted' Lucy Clarke
'Domestic suspense at its very best. An aspirational setting, an unsolved crime, a plethora of suspects and twisted allegiances at every turn … I loved it' Caz Frear
'Tense and suspenseful … a delicious slice of suburban noir shot through with secrets, lies, paranoia and the unsettling claustrophobia of a staunchly closed community' Kia Abdullah
COLAPSAR