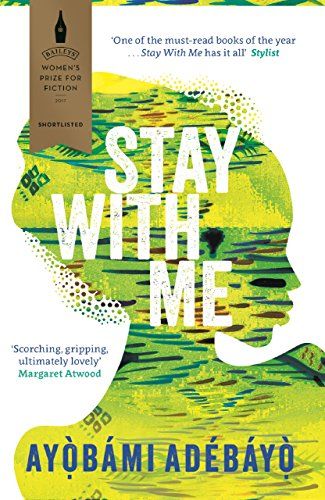 Ediciones:
eBook
(English)
ISBN:
B01LDANWZK
Páginas:
305
— SHORTLISTED FOR THE 2017 BAILEYS WOMEN'S PRIZE FOR FICTION.
— SHORTLISTED FOR THE 2018 WELLCOME BOOK PRIZE.
— LONGLISTED FOR THE 2018 INTERNATIONAL DYLAN THOMAS PRIZE.
Año de edición:
2017
Autor:
Géneros:
Sinopsis:
Yejide is hoping for a miracle, for a child. It is all her husband wants, all her mother-in-law wants, and she has tried everything.
But when her relatives insist upon a new wife, it is too much for Yejide to bear.
Unravelling against the social and political turbulence of 1980s Nigeria, Stay With Me is a story of the fragility of married love, the undoing of family, the power of grief, and the all-consuming bonds of motherhood.
It is a tale about the desperate attempts we make to save ourselves, and those we love, from heartbreak.
Reviews:
Margaret Atwood

:
Scorching, gripping, ultimately lovely
The Times

:
This terrific first novel (shortlisted for the Baileys women's prize for fiction) deals with the daily stresses of living with the political upheavals of the time but the real drama is happening in Yejide's womb. Adebayo unfolds the many layers of truth with insight and skill
Guardian

:
A thoroughly contemporary style that is all her own . . . clever and funny . . . despite the intense sadness of her subject matter, she has produced a bright, big-hearted demonstration of female spirit, as well as the damage done by the boundlessness of male pride
New York Times

:
Has a remarkable emotional resonance and depth of field Adebayo is an exceptional storyteller. She writes not just with extraordinary grace but with genuine wisdom about love and loss and the possibility of redemption. She has written a powerfully magnetic and heartbreaking book.
Stylist

:
One of the must-reads books of the year so far: Stay With Me has it all, including big themes of love, grief and jealousy, a fantastic female protagonist plus it reads like a page-turning thriller.
Sunday Times

:
Affecting and powerful . . . Adebayo's prose is a pleasure: immediate, unpretentious and flecked with whip-smart Nigerian-English dialogue
Daily Mail

:
This deeply impressive novel of infertility, loneliness and longing is the first by the hotly-tipped Adebayo and it packs a tremendous punch
ELLE

:
This confident and fearless writer challenges us to think about marriage from all perspectives in her first novel . . . Stay With Me is the closely observed, heartbreaking and original tale of the desperate attempts we make to save ourselves from severing the very bonds that make us
Mail on Sunday

:
This impressive debut creates, in deceptively simple prose, a portrait of a marriage in crisis in a deeply patriarchal and oppressive society
Financial Times

:
This tale of a Nigerian couple under familial pressure to conceive is a subtle and unsentimental triumph . . . A tale of real complexity and humanity, part psychological observation and social study